Chiang Rai weekend experience, the best things to do in Chiang Rai
Chiang Rai is a beautiful city of northern Thailand, and near to borders of Laos and Myanmar. It is famous for its different-colored temples and many other visiting places. A Chiang Rai weekend experience, for spending valuable time. This place is perfect, calm, spiritual and romantic. If you are confused and still you did not decide where you can go with your family and friends then I would like to suggest you the best thing to do in Chiang Rai.
No matter where people are residing, they love traveling and love to visit new and unique places with their friends and family. There are thousands of magnetic and charming places all around the world. Among all these famous visiting places, Thailand has its own identity and a very strong place in most visited places in the world.
Thailand has many places for visiting and weekend experiences. Its blue water beaches and wonderful resorts make it even more special. If we are talking about Thailand, then how can we forget the astounding city, Chiang Rai?
There are various attractive places, visiting points, and picnic points, where you can spend quality time and enjoy your long weekend.
First of all. How to go to Chiang Rai?
There are different mediums of transport that are being used to reach Chiang Rai, and we are going to discuss a few so that you can get a better idea on how you can go to Chiang Rai. Here you go:
By plane!
For example, if you would ask me how do you get from Bangkok to Chiang Rai? I would only suggest the plane, as the tickets are very low price and there are many airliners on this route from both Bangkok airports, this keeps prices low, especially during the low tourists season.
You can get to Chiang Rai by plane without any hassle from all major Thailand's airports.
By Bus!
You can get there by the local bus service. Where you will find two types of bus service, one that is air-conditioned and we can say that it will provide you with the luxury experience. The other one is not air-conditioned and it will be a bit inexpensive as compared with the first-class bus service.
Rent a car!
You can also rent a car with a well-reputed car service and can easily get around. You should choose this medium if you know the place well, if not then this option will not be suitable for you.
So, these are a few options that can get you to Chiang Rai, if you are planning to go there you can choose one of these options.
Also by car, the trip takes about 3 hours
An auto is a superb alternative if you would like in addition, the liberty to drive anywhere you need to!
Car rentals can cost between 28  and 70 US dollars (1000 to 2500 THB) per day, depending upon the car models fo course.
How do you get from Chiang Mai to Chiang Rai?
Chiang Mai to Chiang Rai by Bus
The simplest way to reach Chiang Rai out of Chiang Mai is by bus. The trip takes about 3 hours.
Is a fact, there are not any direct flights or trains operating between Chiang Rai and Chiang Mai. It is also the lowest cost and more suitable alternative.
A good example is the Green VIP bus operating five times every day out of Arcade Bus Station, which is in the front end of Kaeo Narwat Road, near the highway. It is super simple to arrive, you simply get a songthaew, and it'll only cost you always about 50 THB ($1.5). This big bus can be comfy, with 24 enormous reclining chairs and a bathroom on board. Seriously, it is like flying business class!
In Chiang Rai, there are two bus stations, one just outside the city, one directly close to the night bazaar.
The older bus terminal (Terminal 1) is the one near Night Bazaar. The new bus station (Terminal 2) is outside Chiang Rai, it will take you a 10 minutes drive from one bus station to the other.
The Green Bus company arrives at the old bus terminal, to get you directly in the city center.
How much is the bus from Chiang Mai to Chiang Rai?
Buses costs, depending on the choice, from 4 to 10 US dollars, 130 to 300 THB, one way. There's a 20 baht booking extra charge when you book for tour stands around the city. If you wanna go during holidays time I suggest you book a couple of days ahead.
Chiang Mai to Chiang Rai by Private Tour
If you really want to make the most of your trip and you have the time to spare, you could also opt for a private tour. A Chiang Mai to Chiang Rai Tour is a great option if you want to combine seeing the mainstream Chiang Rai tourist sights, such as the Golden Triangle and White Temple, with discovering areas that are off the tourist trail. Plus, with this tour, you will have the chance to stay overnight at a Karen Hill tribe homestay with a hill tribe family and learn firsthand about hill tribe culture and their way of life. If you have the time and you want to experience the authentic parts of Chiang Rai that most tourists miss, then this option is definitely worth considering.
What can you do in Chiang Rai?
As I mentioned that in this small city there are many places to visit and activities to do. If you do not have any idea about the most worth places of Chiang Rai for your weekend trip then no need to worry. Because of the fact that we are here to guide you properly and help you to finalize the most attractive places for a trip with family and friends.
What is Chiang Rai known for?
There are many romantic places where you can make your honeymoon trip as a newly-wed couple too. You can enjoy natural beauties, waterfalls, swimming, sunbaths and much more things to do for fun.
Let me tell you about some of its charming and best places as a suggestion for your Chiang Rai weekend experience:
Visit different temples of Chiang Rai
There are different and world-famous temples, found in Chiang Rai. You can visit all of these temples which are slightly different from each other, beautifully built and decorated by well-known artists of Thailand. A lot of temples are situated in Chiang Rai but in this article, I would like to share the most famous and stunning temples of this city.
So, without wasting a moment, I am going to tell you about these attractive temples, here we go:
White Temple
The classic White Temple, which is also known as Wat Rong Khun. Best ever place to visit as a weekend picnic. It is a well-known place of Chiang Rai and very famous all around the globe. This place deserves that when people go to Chiang Rai they must visit this place and go there again and again.
Wat Rong Khun is a glittering white and modernly decorated temple with the number of surreal and original touches. When will you visit this place you could not forbid yourself from fall in love with this attractive and stunning temple?
Chiang Rai weekend experience. This White Temple is a glorious and truly a breathtaking sight!
What can you do in the White Temple, Chiang Rai?
The great Thai artist, Chalermchai Kositpipat was the one who designed this magnetic place. Around this temple, you will find the many other buildings and more interesting picnic points, a wonderful gallery of unusual paintings of the same artist. There is a number of those buildings which are under construction and are being constructed with surreal touches.
This is the smoke-free area and you can spend a couple of hours taking the small intervals. If you have the knowledge of art then you can feel surprising details and historically makeup of this beautiful temple.
Enjoy this Temple also from Chiang Mai with a very easy day tour:
You will find a huge number of people but still, this is the best art place to visit in Chiang Rai. If you want to spend time alone then you have to come early in the morning because most people visit this place in the day time. By morning time you will have surely an unforgettable experience.
Keep one thing in your mind that there's an entrance fee of $1.50 for foreigners to visit the White Temple.
The Blue Temple
Surely you are thinking that Chiang Rai is a colorful state which has different colorful buildings. I shared about "The White Temple" now I am going to tell you about "The Blue Temple". It is also known as Wat Rong Suea Ten and it was completed in 2016, you can say that this is a new building. It is recently constructed that is why this building is not as much famous than other visiting places of the state. But I am sure that in the coming years it will become more famous and people will love to spend their quality time by visiting The Blue Temple.
It is located a few kilometers outside from Chiang Rai, in Rong Suea Ten in the district of Rimkom.
It will be a great chance for you if you will go there to spend your weekend. Visiting the Blue Temple will surely be one of your absolute favorite things to do in Chiang Rai. The building has very vibrant, contemporary and bold blue shade. Inside walls are also painted in bright patterns and colors. Its splendid blue interior and a large white Buddha marks the spirit.
The paintings of this Blue Temple have great resemblance with The White Temple. Between The White Temple and The Black House, this Blue Temple presents the view of Chiang Rai as the city of colorful temples.
If you are confused to go there because it is not famous then do not be confused and believe me will never regret your visit to The Blue Temple. It will mesmerize you and hypnotize your mind for visiting again and again.
So don't waste your time and go get a ticket!
Monkey Temple
Chiang Rai has another place with a strange name called Monkey Temple. It is also known as the Fish Tail Cave or Wat Tham Pla.
If you are thinking that there are monkeys in the temple running around, then yes it is true. There are a lot of monkeys in the building which are running around, inside/out and known to jump on the tourists, snatch their things.
People go there at their own risk!
If you want to go to The Monkey Cave, you will have to get a short drive from Chiang Rai, so you will need a car or scooter to visit it. You can take motorbike on rent from the nearer central clock tower.
On the top of the temple, you will be wondered by the sight of limestone formation and then enter in the dark and cold cave. In this cave, you will find the shrine of the Buddha statue. Another interesting thing is, there is a hole at the roof of the cave from which sun rays enter the cave to light the cave up and it really feels magical.
It has a lovely little balcony area with some bells where is a lovely setting of trees under the sunshine. You will find a very peaceful atmosphere in the cave.
Wat Phra Kaew
I shared about the recently designed and built temples of Chiang Rai. Now I am going to tell you about the most famous and historic temple of Chiang Rai. This historic temple is called Wat Phra Kaew.
This temple is commonly known in English as the Temple of the Emerald Buddha and officially people call it Wat Phra Si Rattana Satsadaram. It is also famous as the most sacred Buddhist temple in Thailand.
The Wat Phra Kaew temple is taken as a religious-political symbol and the palladium of Thailand.
This is a very small temple but it looks beautiful and charming. Once upon the time, it was known as the house of Emerald Buddha, which is now in the Grand Palace in Bangkok. Now there is its replica placed.
These are some temples of this phenomenal city!
The Black House
Here we are going to discuss another wonderful place of Chiang Rai, and your weekend trip for this place will surely be a worthy one. You are surely thinking that what place is this, it is known as the Black House.
This is one of the best museums of Chiang Rai and is spread on the large area. The architecture of this building made it worth black vision. The whole building has art created out from different things like made with animal skin, different images of artistic work and unusual pieces of furniture.
It is actually located on the outskirts of Chiang Rai. This Black House has an amazing collection of painted wooden houses featuring Thai art. Thawan Duchanee was the designer of this magnetic place.
The Thai artist tried to show the darkest part of people, their sufferings, their pain and all the bad things that are happening all around the globe.
It is also called Baan Dam and decorated with strange modern art, you can say that it is the weirdest place of Chiang Rai. Due to its constructed design, it is commonly called the Black Temple by some people which is not true.
It also has several buildings around, some have resemblance with igloos and one of these, looks like a beached submarine.
When you will go there you surely will admit that it is an incredible attraction in the whole place. This black beauty is also a crowded area and if you want to spend time with less crowd, you have to go there by early morning.
The Black House is located on the outskirts of Chiang Rai. The entrance fee for this black palace is $2.40.
The Night Market for food
You might be thinking that is there any market or shopping place in the Chiang Rai? If yes, then I would like to tell you that the Chiang Rai has a night market which is not the biggest one but it has the ability to become the best host of incredible food stalls with serving up northern Thai specialties like Khao Soi. Which is absolutely a delicious noodle dish with a distinctive flavor which you cannot get anywhere else? This is known as one of the top foods in Thailand!
This night market of Chiang Rai is softer and more relaxing than any other Thai night market. Making it a great place for visiting and stocking. After this much intro, I think there is no need to mention that a visit here, is one of the best things you can do in Chiang Rai if you are a foodie.
You will find rows of vendors set up selling everything for tourists like fabrics, housewares, clothes, and everything in between for the locals. The market snakes are cheap and tasty through the streets. Another exciting thing about this night market is the Thai Dance show by night. You can enjoy this traditional Thai dance while you are having your dinner.
The Clock Tower
Chiang Rai's has another amazing thing which is known as The Clock Tower. It is stunning in looks because it was designed by that artist who created the famous White Temple. But one regardless thing is that it had been set in a very busy place as in traffic intersection. When you will see it for the very first time, you will not get impressed due to the honking traffic. So, some people declared it as a not much attractive place.
But..!
In reality, it is complicated and impressive than other clock towers of the world. After the sunset, this tower shines with colorful lights and seems like you are experiencing some lighting show. Different and bright colorful lights flash when music is running in the background.
At that time it seems that the whole city comes out to watch this wonderful and astonishing thing. It is actually a fun experience and the most popular things to do in Chiang Rai after the sunset. I hope you will admire it, after visiting this place and it will become the best Chiang Rai weekend experience.
You will find many snacks and drink corners in this street along with different restaurants and cafes. You will enjoy delicious food while enjoying the light shows of this stunning Clock Tower.
Northern Point of Thailand
As I shared many attractive places of Chiang Rai so you can declare after visiting all these places that the whole Chiang Rai is beautiful and stunning. But here we are going to discuss the northern part of Chiang Rai.
You might be thinking that why I am recommending you to visit this viewpoint. Actually, this place is marked as the shopping place. You will find a lot of restaurants, jewelry shops with different and traditional jewelry of Thailand and different decoration pieces which show the Thai culture.
If you want to buy gifts for your family, friends and other important people of life, you must visit this place in order to get more options!
Wait!
This is not the end, in this place, you will find a bridge which is joining two countries, Thailand and Myanmar. You will watch people crossing it and switching the countries.
Parks of Chiang Rai
There are many big and small parks in Chiang Rai but here I am going to mention two of these which are most famous and well-known among the people.
TreeTop Adventure Park
Visiting Treetop Adventure Park is a must-do when you are in Chiang Rai. You can also visit this place as Chiang Rai weekend experience!
This park is located 30 meters above from the ground at Mae Fah Luang Garden of Chiang Rai. This garden is near to the Myanmar border and situated at a very northern part of the Chiang Rai. The attractive things of this park are swings and giant zip lines, rope bridges and beautiful natural views as far as the eye can see. Visiting this place and enjoying the natural and architectural views of this phenomenal place the best thing to do in Chain Rai.
Singha Park
Singha Park is an actual place from where you can enjoy the closer view of nature. It is still under construction but the focus is on natural views which can mesmerize you. You will find cycling and walking routes in this part, fruits orchards, zip lining, adventure rope course and tea plantation likewise.
You can visit these parks with your family and children and make your weekend trip remarkable!
The Golden Triangle
The Golden Triangle in Chiang Rai is one of the top places to visit and it is around 50km above from the ground!
This is the main spot because, at this spot three countries Thailand, Myanmar and Laos meet. On this place two main rivers of the region, the Mekong and Ruak intersect. While your visit of this Golden Triangle, you can stand on the high balcony of the hilltop and can enjoy the breathtaking views of the rivers, nature, and land.
Down below you can see the giant golden Buddha statue and by the top of the hill, you can watch an ancient ruined temple. You can go there on your day trip and enjoy the beauty while taking pictures with your family and friends.
Chiang Rai weekend experience. Visit a Hill Tribe Village
Visit a Hill Tribe Village in Chiang Rai, there is another best thing for Chiang Rai weekend experience. This village has a lot of hills and mountains, the people of this village belong to different tribes and most of these tribes belong from outside of Thailand, especially "long neck" Karen hilltop tribes.
Enjoy this Hill Tribes also from Chiang Mai with a very easy day tour:
These groups came all the way from Myanmar and are following the Myanmar culture. If you decide to visit this hilly area then you should keep one thing in your mind that don't do wrong acts, try to be ethical and you can visit tribes after getting their permission.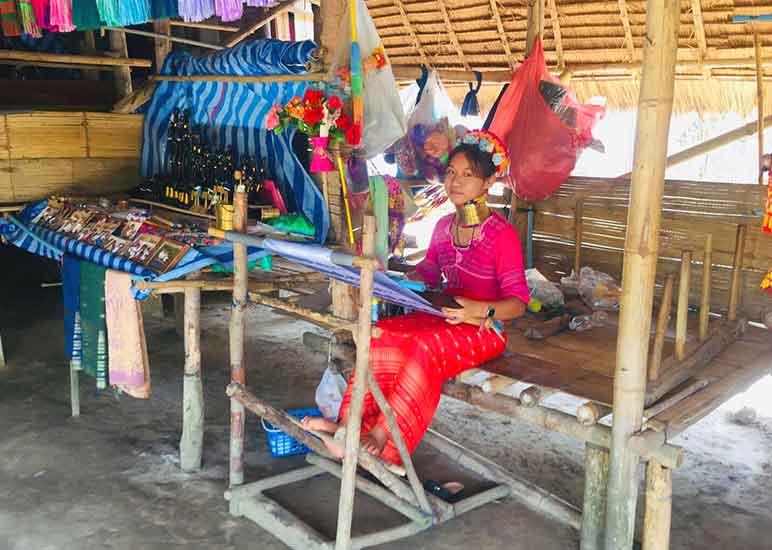 If you can understand the Myanmar national language then you can enjoy their stories, traditions, and culture. They love to share their experiences and norms with others but you will have to sit ethically between them if you want to listen to their stories and experiences.
What Are You Waiting For?!
In this article, I tried my best to share all the beauty of Chiang Rai and I told you about many visiting places for your Chiang Rai weekend experience. This small city has many stunning views having both natural and architectural beauty. The artwork of this tiny city is enough to stun you.
If you have decided to visit this charming city then what are you waiting for? Pack your hand carry and get ready for this weekend trip of Chiang Rai. What should be the place that you will be visiting, it is up to you.
See also:
How to get from Krabi to Phuket
Weekend in Khao Sok National Park