The most interesting temples in Chiang Rai Thailand
Focus on the unique Wat Huay Pla Kang temple in Ban Huay Pla Kung – Chiang Rai
If you are looking for a place with amazing historical architecture and local traditions, the Wat Huay Pla Kang temple is one of the best places to visit here in Chiang Rai. It's easy to reach by public transport from any part of town.
Of all the Temples in the Province, Wat Huay Pla Kang, also known as the "Big Buddha of Chiang Rai", is certainly the newest and most popular tourist attraction in the Province.
It sits on a hilltop, and this is why it offers panoramic views from its scenic location North-East outside of Chiang Rai Town.
The wat mixes Thai Lanna architecture with Chinese styles
Visitors can see an enormous white statue Guanyin, 9 tiered pagodas modelled after temples found upcountry or farther south (such as Wat Phra That Doi Suthep), and some beautifully decorated temple buildings that are typical to Northern Thailand Buddhist design.
Visiting early morning or late afternoon for maximum tranquillity would be my suggestion because locals have reported that this place gets overrun during midday and afternoon.
The best way to get there from Chiang Rai city?
Hiring a tuk-tuk taxi to take you about 5km out of town for just 100 THB ($3 USD) per person roundtrip.
In recent years, this Temple has become Chiang Rai's most popular Temple. A warming centre for everybody, particularly all Buddhists, loves to respect the site. In 2001 it was completed.
The National workplace of Buddhism designated the area to serve as a temple, entitled Huai Pla Kang, only four years later on the very first day of the foundation.
However, the finest thing about this Temple is its magnificent landscape and its decorative shape, creative structure, and architecture. It was once only a little home of Buddhist monks until it was rebuilt to today's magnificent location. The front-end of the Temple has a striking appearance and an Arabic-style entrance with green and red columns supporting the roof.
Your detailed guide of Wat Huay Pla Kang – Big Buddha Chiang Rai
Photo from Wat Huay Pla Kang: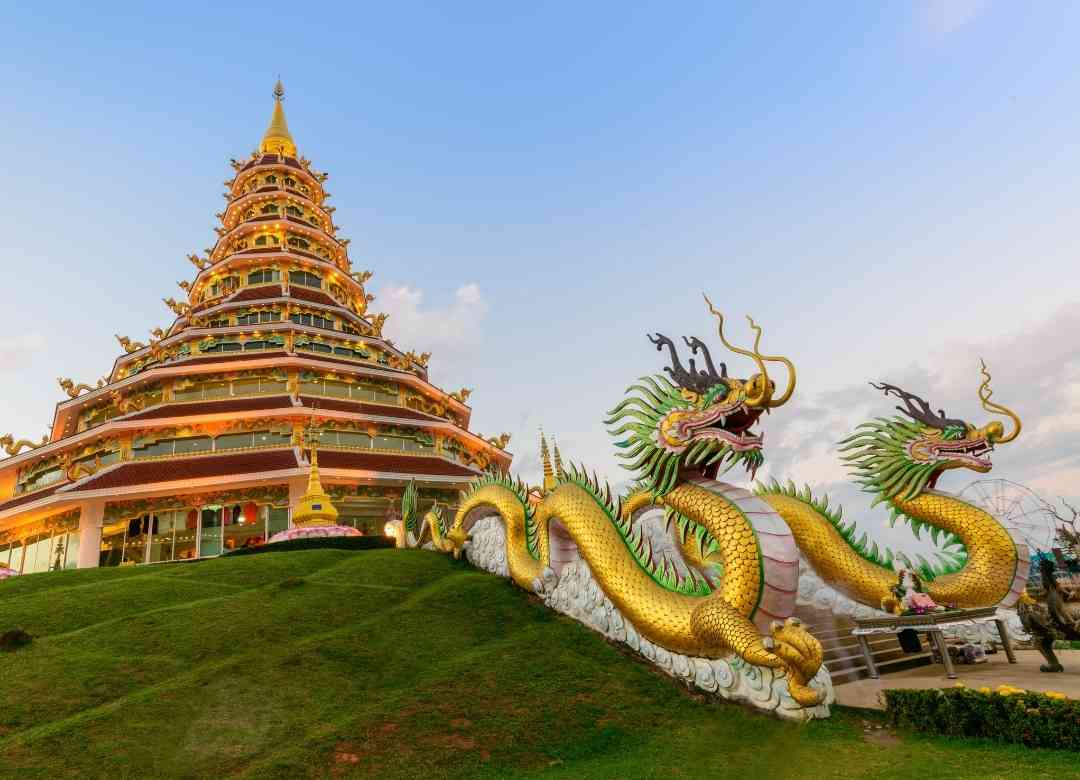 ♥ The best temples in Chiang Rai ♥| Wat Huay Pla Kang | A new but popular temple in Chiang Rai, Thailand
Pagoda with 9 Tiers
The stairs to the summit of the pagoda can be climbed by visitors.
Wooden sculptures of the Buddha, Guanyin, and monks may be seen on each of the building's nine levels. The Guanyin statue can be seen well from the top floor.
Small golden chedis surround the foundation on which the pagoda sits.
Statue of Giant Guanyin
The Temple is famous for its huge white Guanyin Statue, often called "Chiang Rai Big Buddha." The picture shows the Chinese deity of Mercy Guanyin.
The image is sitting on a hillock. The Guanyin statue stands on a footstool of Lotus petals, 90 meters up into the air. The statue has a height of 45 meters. The image is in the iconic Lanna style.
It looks like it may have been modelled after temples found upcountry or farther south, such as Wat Phra That Doi Suthep in Chiang Mai, which also features a giant white Guanyin Statue.

Ascend to the top!
Visitors can take a lift 25 stories up to the summit of the Guanyin monument once inside.
Other than the Giant Guanyin Statue
Wat Huay Pla Kang is also a museum. The Temple has within its walls many beautifully decorated temple buildings that are typical to Northern Thailand.
When you will visit, remember that the architects and creators constructed the entire area in Thai Lanna style mixed with Chinese architecture.
This fact is crucial to understand the typical northern Thailand Temple's style. Thus, you can enjoy noticing the details and taking pictures of them to collect curiosities and expertise about their unique and intriguing architecture.
Wat Huay Pla Kang Museum
The Wat Huay Pla Kang is also a museum. This Temple had become the most popular in all of Chiang Rai Province; it was founded and completed in 2001. As a result, the National Office of Buddhism has designated the area to serve as a Buddhist Temple called "Huai Pla Kang".
Wat Huay Pla Kang opened up as Chiang Rai's newest and most popular tourist attraction in all the Province.
Surrounded by green hills, which are perfect places to watch sunsets – come early morning or late afternoon when it's beautifully serene and peaceful.
All visitors can take advantage of free shuttle buses that will transport you up close towards the base where their destination awaits them!
Of all the other Temples of the Province, we definitely have our preferred ones:
Wat Phra That Doi Chom Thong – Chiang Rai Province
Thailand's most spectacular temples are located throughout the country, and Chiang Rai is home to some of the finest.
The glittering Wat Phra That Doi Chom Thong or "Golden Chedi Hill Temple" is one of northern Thailand's most precious gems. Located in Mae Salak, just a half-hour drive from Chiang Rai City, this Temple is over 700 years old with many splendid murals inside.
Located on an elevated stilted platform around 7-8 meters high off the ground, it was constructed by King Mengrai in 1300s for his father after his death as part of Buddhist tradition.
He looked for many auspicious signs when building it, including seeing a white elephant and finding a conch-shaped piece of amber in the river. So he decided that this would be a good place to construct a prang.
When entering the wihan or main hall, you will see various mural paintings on every wall depicting stories from Buddha's life.
The murals are very detailed, with small ceramic Buddhas dotted about – there is even one of King Mengrai himself riding an elephant.
Also to note are the Sukhothai style statues inside, and gazing at reflections on the pond below whilst meditating is quite ethereal.
Outside, more beautiful murals and stucco work to discover up close, including some coloured reliefs where visitors can insert gold leaf.
Other interesting artifacts here include old photographs and antique ceramics pieces.
Once you've finished wandering around, there's a restaurant on the grounds to stop for lunch or tea and a few souvenir shops selling amulets at the entrance.
If you've come here during Chiang Mai's Loy Krathong festival, though, be sure to come back on Doi Songkhram (the full moon of the 12th lunar month).
You will witness a traditional wonder: an awe-inspiring lantern release ceremony to commemorate King Mengrai.
Visitors from across the country gather together on this day.
They are all waiting for their turn to board boats decorated with flowers and lanterns.
Then, they set sail down the Nam Nga River under a starry sky before releasing them into it as offerings.
Wat Rong Khun (The White Temple) – Chiang Rai Province
If you're interested in unconventional architecture, don't miss Wat Rong Khun (The White Temple) on the outskirts of Chiang Rai. It is a major destination for art enthusiasts and architects worldwide who travel here to admire its unique style and intricate detail.
Buddhist monk turned modern artist Chalermchai Kositpipat designed this Temple, which was initiated in 1997 – he worked tirelessly on it until his death in 2007, leaving behind his masterpiece and many more fascinating creations built around Chiang Rai as gifts to the city.
Until fairly recently, there was no such thing as an art gallery in Chiang Rai, so, incredibly, someone decided to build one inside a Buddhist temple!
Visitors are welcome to enter the Temple and admire Chalermchai's work, including a series of amazingly detailed murals in many different styles, including colourful cartoons depicting Buddhist life and surreal dream-like designs.
Other attractions here include his huge structure made entirely out of palm tree leaves, an amazing stupa in the courtyard with beautiful mosaics glittering inside, and hundreds of Buddha statues placed around Chiang Rai with some even hanging off buildings.
To visit Wat Rong Khun (The White Temple), take highway 1 heading south for about 25km toward Chiang Rai from Chiang Mai, then turn right onto road 118 into the centre of Chiang Rai City.
The Temple is on your left within walking distance from Wua Lai Road.
The White Temple
The Blue Temple
The Black House
Big Buddha Chiang Rai
Hill Tribes
Akha Way of Life
Akha Homestay
The Golden Triangle
Wat Phra Kaew
Wat Phra Singh
Wat Ngam Muang
Wat Klang Wiang