A guide to Krabi best things to do
Krabi is one of the tourist destinations in the west of Thailand. We have found this place unique and with amazing things to do. Hence we are providing you a guide in this article to Krabi.
You will find all about Krabi, the best hotels to stay at Krabi, where to go for nightlife experience and the best things to do at Krabi. Read on to find out more!
What is Krabi?
Krabi is the main town on the west coast of southern Thailand in the province of Krabi, at the mouth of the Krabi River, where it is situated in Phang Nga Bay.
The city had a population of 52,867 as of 2010 — the headquarters of the province of Krabi and the district of Krabi. Tourism is an industry of great importance. Krabi is 783 kilometers by road south of Bangkok.
For those looking for a relaxing place in southern Thailand, Krabi is the ideal holiday destination. Located between Phang Nga and Trang, the province features spectacular inland and sea scenery. It has more than 150 islands off its 150 km long coastline, many of them with fantastic white-sand beaches and turquoise waters.
The forest also has jungle-covered, sheer calcareous cliffs, caves, waterfalls, and endangered wildlife.
Krabi is an excellent selection of natural assets that give a wide range of recreational activities for the entire family to its tourists. Island hopping, snorkeling, rock climbing, sea kayaking, jungle trekking, and scuba diving are among the most popular activities to enjoy while on vacation in Krabi.
Awesome tours for awesome guests
Krabi history
A brief list of historic moments in a few steps:
At the beginning of the Rattanakosin or Bangkok era in the late eighteenth century, when the capital was finally settled in Bangkok, an elephant kraal was set up in Krabi by order of Chao Phraya Nakorn (Noi).
The governor of Nakhon Si Thammarat, who was then being part of the Thai Kingdom.
At one time, he sent his vizier, the Phra Palad, to supervise this mission, which was to ensure a regular supply of elephant.
In the steps of the Phra Palad, so many adherents immigrated that Krabi soon had a large community in three separate boroughs: Pakasai, Khlong Pon, and Pak Lao.
King Chulalongkorn elevated these to the status of the city in 1872, called Krabi, a word that preserves the monkey symbolism of the old standard in its meaning.
The first governor of the town was Luang Thep Sena, although it continued as Nakhon Si Thammarat's dependence for a while.
This was modified in 1875 when Krabi, in the old Thai government system, was elevated to a fourth-level region.
Administrators then reported directly to Bangkok's central government, and the development of Krabi had started as a separate entity from other provinces.
Let's start the journey!
Things to do in Krabi
1. Enjoy Krabi Thailand nightlife
The after-dark scene of Krabi has a friendly, almost harmless feeling that appeals tremendously to many visitors, especially those with kids.
Railay is laid-back, friendly Krabi Town and rather quiet Klong Muang, while the variety of Ao Nang hosts the most vibrant nightlife scene in Krabi Province–but each location is enjoyable. Experience Krabi's finest nightlife.
Boogie bar Located in Ao Nang Walking Road, a few steps away from the beach road, Boogie Bar is a bar in the '70s, oddly separated by the lane of the walking road.
The main site of the bar includes tables, chairs, a pool table, and the bar counter, while the smaller side on the other side of the lane has just a few tables and the stage where a popular cover band is playing.
The live band, which is the real center of attraction in this quaint bar, performs all the classic pop-rock tunes with brio. From beer to cocktail and from soft drink to spirit, the drink list hosts all the usual suspects. Note that there are pretty steep prices.
Bamboo Bar is a lively bar and music venue with a great beach atmosphere and a full cocktail menu on Railay Walking Street's backside.
Renowned for being one of Railay's best places to have fun at night, the Bamboo Bar provides a chilled-out daytime atmosphere and a fun-loving night party atmosphere.
Roots Rock Reggae Bar is a mid-sized open-air bar situated on the main road to Krabi Town in the southern part of Ao Nang, diagonally opposite Mac Donald's, about 50 meters from the beach's Bombay Palace Indian Restaurant.
The restaurant offers a great mix of inexpensive drinks (small bottle of beer at 90 baht and cocktails at 150 baht), excellent live music (the Thai band playing here has a great singer), friendly staff, and fire show at 20:30 (right on the pavement in front of the bar).
Lucky Restaurant & Last Bar
So named because it was the last bar on this strip (the cement footpath was extended two kilometers further north in 2013). the Lucky Last Bar has a day-long dining menu and goes on until late, featuring live music and high season Muay Thai demonstration. A tattoo studio (So Good Tattoo) is also available at the venue.
Here's the place to go for full moon parties on Railay East, and the restaurant is child-friendly to its credit, but at night the music turns up high, and the UV lights are switched on to create the closest thing to a rave as you find on Railay.
2. Ao Nang Center point
The nightlife epicenter of Ao Nang Center Point has been refurbished and is now a three-story entertainment complex with plenty of bars to choose from, as well as a ladyboy cabaret called Blue Dragon.
Little Long-Horn Saloon is a famous bar and restaurant, Rocky Bar has good live music, while Airplane and The Cave Bar have sight-catching designs, although not as eye-catching as the hostesses inside.
Tew Lay Bar is a cool spot on Railay Beach East off the beaten track. You have to navigate the seaside path after The Last Bar for about 350 m to get there.
This bar-restaurant-cooking school is located on a small cape and has the vintage vibe of the first bars that settled in Railay in the 1980s.
You will enjoy the view of Railay East Bay and its mangrove forest in a peaceful way while sipping a cocktail or a cold beer. The Tew Lay Bar atmosphere is truly peaceful, gently rocked by music from reggae.
3. Explore Shopping in Krabi
In case you're looking for a pair of Jimmy Choo shoes or a genuine Cartier watch, it's going to seem like a let-down in Krabi Province.
Nevertheless, the area has some pretty decent boutiques, most notably in Ao Nang, and the range of goods for sale has increased dramatically with the advent of supermarkets near Krabi Town.
It is best to think as part of a well-rounded vacation about the shopping experience in this area.
Out of the extremely popular Krabi Town Walking Street to Koh Phi Phi Don's Tonsai Village's tiny yet innovative Namlily, Krabi has enough shopping options for holidaymakers who want to find cool souvenirs back home. See our list of Krabi's best shopping opportunities.
Krabi Town Street Walking
The most significant shopping event in Krabi Town is certainly Walking Street. It takes place in Soi Maharaj 8 every Friday, Saturday, and Sunday from 17:00 to 22:00. The Walking Street gathers an incredibly large crowd for such a small area every weekend with something like 50 stalls selling a wide range of products and street food.
Ao Nang's Catalunya Walking Street
Opened in 2007, Catalunya Walking Street is a popular bazaar-like compact shopping center. It is where you'll also encounter an art gallery, tailor, optician, ice cream shop, four restaurants (Thai, Mexican, and international), two bars, a branch, and a guest house right next to Ao Nang Beach.
Chock Dee Handmade Silver & Gold Jewelry
It is a longstanding boutique on the beachfront of Ao Nang. It has a wide selection of bracelets, necklaces, earrings, etc. The peculiarity of the jewels sold at Chok Dee Handmade is that they are all original creations of unique, semi-precious, and rare materials.
Maharaj Market is also famous as the' Morning Market,' and as the name suggests, even before sunrise, it is a vibrant and active location. Maharaj Market practically never closes: it is not fully active at certain times (12:00-16:00 and 21:00-04:00), but something is still happening here.
The latest addition to the Ao Nang / Nopparat Thara shopping scene is Nopparat Thara Plaza.
Opened in February 2014, this contemporary shopping and dining spot offers some cool shopping opportunities when it comes to shopping opportunities in an otherwise quiet area.
It is Located along Nopparat Thara beach road about 500 m from Ao Nang's northern end, right next to Holiday Inn Resort Krabi Ao Nang Beach and diagonally across from Luna Beach Bar & Restaurant.
There are about 20 shops and restaurants in Nopparat Thara Plaza, as well as a food court.
Designed in a style that combines modern and natural elements, the square is set between the solid hut-like shops in a spacious compound with plants, trees, and a large carp pond.
Vogue Department Store follows the well-trodden Thai route of crowding plenty of brand-name shops under one roof with a central store, food court, and fast food places. It is located in the heart of Krabi City on Maharaj Street.
4. Railay Walking Street
Railay Walking Street is the main shopping center of Railay West. There are plenty of shops, bars, and restaurants in this 70 m long lane. Its entrance is on Railay Beach West, flanked by the famous Flame Tree Restaurant & Bar on two sides.
In Railay Walking Lane, the other eateries feature one kebab stall, two fruit shake/burger joints, and one fruit shake/pancake stand.
Leisure centers are also represented on the lane with the Railay Rock Climbing Store, King Climbers, and Railay Dive Centre; please note that after these exhausting activities, visitors will enjoy a soothing massage at the Bobo Thai Massage at the end of the lane.
Continue with your adventure exploring Krabi
Let us discover the best things to do at Krabi. The region is growing fast and has loads to do a very popular tourist destination.
Krabi has its airport that handles domestic and international flights. It is no wonder that the area is growing as a tourist hotspot, considering the miles and miles of spectacular coastline, lush hinterland, and lots of leisure activities at hand.
Nonetheless, one of Krabi's main attractions is that it is still relatively untouched.
The province is still maintaining its natural charm. See the best sights, landmarks, and things to do from Krabi below. There's plenty to see in Krabi from picturesque tropical islands to beautiful natural parks.
5. Tour Railay Beaches & Caves
Railay beach is arguably Thailand's most beautiful beach, accessible only by boat because of the large cliffs on each side that cut it off from the mainland. Amazing white beaches, breathtaking views, and beautiful calcareous cliffs can be found here.
When you arrive at Railay, due to its cut-off location, you won't find any roads or cars, just a few long-tail boats and a few bars where you can spend your evenings.
6. Hire a boat and tour Krabi Islands
There are about 200 islands just off the Krabi coastline; some are small rocks jutting out of the sea, some are much bigger but still uninhabited, and some are big islands with a lot of people living a normal life.
If you're a keen sailor, you can charter a boat from Krabi town or Ao Nang and explore the islands alone. Instead, you can rent a boat with a guide so you can relax while taking care of everything.
Between November and April, the ideal time of the year to go is to avoid unpredictable weather.
7. Visit Thung Teao Forest Natural Park
The Natural Park is a place of extraordinary natural beauty; one especially inspiring aspect is the Crystal Lagoon.
Often known as the Emerald Pool, you can go for a dip and escape to another world while admiring the waterfall, the water is naturally warm and completely clear. Keep your eye out for the bird of Pita Gurney, once thought to be extinct but spotted inside the park.
8. Visit Wat Tham Sua Krabi
It is one of Thailand's natural cave, and it sits within the jungle where it houses monks who live worship there. Legend has it that a tiger once lived in the cave, which is where the name of the temple originated.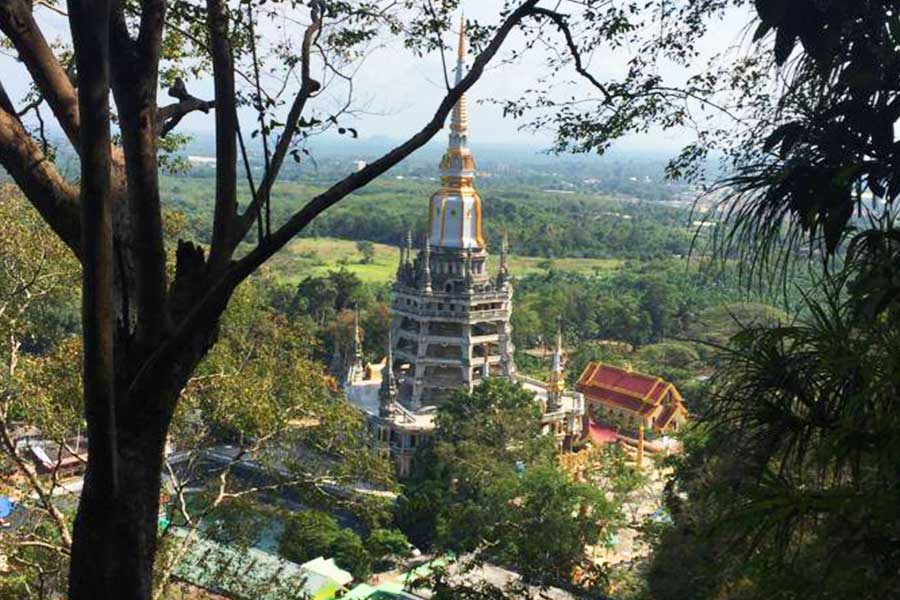 The caves can be explored, and you will find many icons and relics to take a look.
When you're in the caves, you need to make sure you see the' Buddha's footprint,' it's a 1,237-step climb that's no small task, but when you get to the peak, you're rewarded with 360-degree views of the Andaman Sea and the beautiful islands within it.
9. Tour Phi Phi Islands from Krabi
You can do it by speedboat, which takes about forty-five minutes from Krabi mainland, after being used as the film location for the movie' The Beach ' The Phi Phi Islands shot to fame, and the tourists have never stopped coming.
There are two islands where all the tourists flock, Phi Phi Don and Phi Phi Leh, and Phi Phi Don are inhabited.
The island is truly a tropical paradise known for its turquoise water and stunning beaches. If you plan to leave early in the morning for a trip to beat the crowds as they get very busy.
10. Visit Klong Thom Hot Springs
The Krabi Hot Springs is located in the stunning rainforest surroundings. We were cut into the smooth rocks, and the water comes from deeply rooted hot springs inside the volcanic chambers.
The water rises to 40 degrees Celsius temperatures and contains natural mineral salts with many healing properties.
Here you'll feel completely comfortable, and if you want a cool swim after, there's a stream in which you can do it. The springs are very close to the Emerald Pool, so combining the two is worthwhile.
Bringing along a waterproof bag, flip flops and swimming suite is always recommended!
11. Tour Khao Khanab Nam
The Khao Khanab Nam Mountains are Krabi's most famous landmarks, lying on either side of the river and being a true natural wonder.
The two mountains are located on top of a large range of caves with many stalagmites and stalactites.
There are also a lot of human skeletons that might have been stranded during a flood from people who might have died trapped by waters.
One of the mountains is climbable, offering some great photo opportunities from the top.
12. Visit Koh Lanta
Koh Lanta Yai is an island about two hours away from the town of Krabi, a small island that stretches from end to end for about twenty kilometers. Too many guest houses and resorts are inhabited on the island.
There are several beautiful beaches on the island itself that are often quiet but look incredible. It is the place to get away and do it if you want to rest for a couple of days.
The island's prices are still relatively low, as tourism has not yet hit the Phi Phi islands rate. Koh Lanta is home to many accredited diving schools, all ready to take you out to see the amazing marine life and coral that the water has to offer.
13. Tour Krabi Town
Unlike many places you visit on holiday Krabi Town is special, it still receives a lot of visitors, but it hasn't changed to pamper the needs of tourists. Today, it has maintained its' local' atmosphere.
The river is flowing through the city is always full of fishing boats carrying ready catches to the restaurant tables in their days. With its local bars, the city has a genuine feel to it, and it's worth a visit for the authentic taste of Thailand.
14. Visit Susan Hoi
Dating back sometime around 25 and 40 million years and located on a 200-meter long stretch is a fossilized shellfish cemetery, Limestone layers in the surrounding water covered the shellfish and fossilized them, it is one of only three cemeteries like this found in the world today.
If you're into geology, you have to visit this while you're in Krabi. You can also visit a Chinese temple and mangrove forests in the city.
15. Tour Four Island Tour
One of Krabi's most famous tours is the Four Island Tour, which takes you on a four-island tour, and they're usually Tup Island, Phra Nang Cave, Chicken Island, and Poda Island.
The tour is on a longboat, stopping at every location, giving you time for swimming, sunbathing, exploring, and lunch.
Typically the boats house up to about forty people, and a tour guide will be standing at the front, pointing out everything in English and ensuring everyone has enough water for the journey.
16. Go shopping at the Night market
An experience on its own.
Krabi Town has a night market like so many other major properties in Thailand. This market is open in the evening every Friday through Sunday and should not be missed. There are over 70 food stalls and lots of local vendors selling souvenirs.
Local school kids often put on a show as they raise money for their school or other charity.
There's one particular stall worth mentioning, it's the one selling coconut ice cream, most markets have a stall selling the same stuff, but this ice cream is famous for its impeccable taste throughout the markets.
17. Visit Ao Nang Beach
Ao Nang Beach is not the most beautiful beach in the area, and you're better off at Railay Beach if you're after white sand and a peaceful environment, but if you're looking for nightlife and a vibrant atmosphere, it's a good starting point.
There are many bars and restaurants in the area that sell lots of cocktail varieties as well as all the types of food you'd find in a tourist hotspot.
It's also a great place to book your tours as there are many operators in the field fighting to keep the prices slightly lower than in some areas.
18. Visit Phra Nang Beach
This is a spot you won't want to miss, having been voted one of the ten most beautiful beaches in the world.
It has amazing scenery and is a beautiful place to swim just twenty minutes by longboat from Ao Nang.
At each end of the beach, the beach has perfect white sand and large cliffs.
At this resort, you won't find any jet skis or other luxurious activities that will let you enjoy the atmosphere and take in the scenery falling from the jaw.
19.Visit Wat Kaew Temple
Wat Kaew is a temple sitting in the middle of Krabi City.
It is not the biggest of temples but has beautiful decorations on the inside walls; they are painted blue and have numerous Buddhist drawings on them.
At one end of the temple is a large golden Buddha, which is the focal point of the temple.
Outside are various food stalls and vendors looking to sell amulets.
20. Climbing rocks
Climbers from all over the world come to Krabi to scale the abundant calcareous rocks in this area.
Different schools accept novice climbers where they learn sport climbing.
Starting with permanent hooks inserted in the rock with ropes through them is a much safer way for beginners when you lose your grip, you'll only fall a maximum of 50 centimeters.
More than 700 climbs are available in the area from F4 (easy) to F8c (professional) for experienced climbers.
21. Thai cooking lessons
The Thai cooking schools are popular throughout the world, and Krabi is no exception to that, every inhabited island in Krabi will have at least one as is the Krabi mainland. Knowing how to prepare local food is never better than by the locals themselves.
The schools supply all the supplies, and the lessons are run by Thai people who have had years of cooking experience.
They will be able to teach you the right ingredients and techniques to use, whether it's green curry or Pad Thai. Most classes end up sitting down with you to sample your creations.
22. Enjoy a Krabi spa
The spa in Krabi is an excellent place to go when it comes to escaping from the drudgery of everyday life and taking some personal time.
You can all use natural ingredients that are available in Thailand, such as Coconut and Tamarind, to have body wraps, scrubs, and facials.
While you're there, no trip would be complete without indulging in a Thai massage, famous all over the world for its energetic and balanced results; you're sure to feel like someone else when you leave.
The massages stimulate your organs and blood as the toxins start to leave your body.
23. White waters rafting
The chance to go white water rafting is fairly new to Krabi.
The rapids are on the Songprak River, where the river is used for a seven-kilometer stretch.
Once you arrive, complete preparation is given as well as a full safety chat, ensuring that you are as prepared as you can when you start.
The difficulty grade is level 2-4, which makes it a relatively low difficulty run that is perfect for full beginners.
The instructors stay with you in the boats to make sure you don't run into any problems along the way.
Our best picks are:
24. Krabi Kayaking
To those looking to do something a little less exhilarating then white water rafting but still wanting to get out on the water might like the option of kayaking.
There are several places in Krabi with different benefits to going kayaking each. Ao Thalane has mangroves and canyons; Bor Thor has ancient calcareous caves and a lagoon in the middle of Koh Hong.
25. Drink at the old west bar
The Old West Bar in Krabi, the only Wild West theme bar in all of Krabi and a place where you're sure to have a lot of fun, is popular with locals and tourists alike. There are pool tables to play on and a comprehensive list of drinks to keep you busy all night long.
Most bars play reggae in Krabi, but this bar has been playing good American bands since the 1990s and beyond. Pizzas with an excellent reputation are served Western and Thai food.
26. Tour Koh Klang U
unlike the other islands mentioned, Koh Klang has no white sandy beaches to admire and lie on but is a simple fishing island where local people simply live off the ocean.
There are now about 5000 permanently living on the island inhabited for over 100 years, most of whom are fishermen or rice farmers.
The island will give you a rare glimpse into truly local life without you having to travel to a remote village; the locals are a Muslim community with traditional values that needs respectful clothing while on the island.
The island is just a boat trip from Krabi town for five minutes.
27. Visit Wat Kaew Korawaram
Wat Kaew Korawaram is a huge Buddhist Temple that sits at the top of a hill overlooking Krabi City. You climb up a gold-lined staircase that takes you right to the very top, here sits a 2,500sqm terrace on which the temple itself stands.
This one was adorned with white walls and a roof made of dark blue tiles instead of the typical red and gold that you see in other Thai temples.
The temple walls are covered in beautiful paintings, and it is easy to see many artifacts.
If you need some refreshments after climbing to the top, souvenir shops, as well as various food stalls, are sitting outside the temple.
28. Hike to Khao Ngon Nak Viewpoint
About 30 kilometers north of Krabi Town is a place called Nong Thale, where you start your hike to the top, and the trail itself is about four kilometers long and should take about two and a half hours to reach the top.
Khao Ngon Nak translates Dragon Crest Mountain into the meaning and feels like a real adventure as you slowly ascend.
You will find a stream, a waterfall, and a few viewpoints while hiking.
However, the best is saved for the top where you can see the panoramic views from 565 meters above sea level around you.
29. Visit Koh Poda
Koh Poda is one of the Krabi archipelago's most popular islands. It is situated just six kilometers offshore from Ao Nang, getting there by long-tail boat takes about 25 minutes.
The price of a return ticket is about 300 baht per person; remember that if you're traveling alone, you'll have to wait until the long-tail boat is complete, depending on its size, before setting off.
The group of Mu Koh Poda or Poda Island is made up of four islands: Koh Poda, Koh Kai, Koh Tap, and Koh Mor. Koh Poda is the group's largest, despite no more than a kilometer in diameter in its area.
Covered with palm trees and pine trees and surrounded almost entirely by a soft white sand beach, the amazing tropical getaway is every inch.
A coral reef with a variety of marine life is situated about 20 meters from the shore.
The alluring combination of excellent snorkeling, scenery, and soft sand makes the island a popular choice for snorkelers and sea kayakers, but it's not that crowded, surprisingly.
30. Visit the Krabi Tiger Cave temple
Krabi Tiger Cave offers an authentic spiritual experience in an amazing natural environment. Tiger Cave Temple or Wat Tham Sua is located 5 kilometers north-east of downtown Krabi. It is one of the finest natural wonders of Thailand, and it is worth a visit.
The temple here is a warren built inside at the foot of an impressive cliff of natural calcareous caves. In the main temple cave, there are beautiful images, but the real attraction here is the' Buddha's footprint.'
You need to climb 1,237 steps up the calcareous tower to get to this historic site. Krabi Tiger Cave, particularly in the Thai climate, offers you a challenging climb.
Those who make it to the top are rewarded with 360-degree panoramic views. The panorama shows the Andaman Sea, spectacular clusters of calcareous cliffs, and lush rainforests. You will also find the footprint of the Buddha lying on the terrace.
The views at sunrise and sunset are particularly amazing.
31. Visit Ao Luk Mangroves
Ao Luk mangrove and caves is a suitable field for exploration and soft-adventure experiences in Krabi Province.
Ao Luk District is situated roughly 40 km north of Krabi Town on the road to Phang Nga Town and gets to enjoy an extraordinarily preserved natural environment.
This is a rural area that hosts two parks: Than Bok Khorani and National Parks Khao Phanom Bencha.
There are high calcareous cliffs similar to those found in Phang Nga Bay dot the hilly lush landscape and offers an exciting tropical playground for sea kayakers along the coast.
Ao Luk's small town is a genuine village in southern Thailand cut by the Krabi-Phang Nga highway in two. It's a charming place for people driving from Phuket to Krabi Town to have a short rest as a couple of street food stalls and 7-Eleven lets tired drivers grab a snack and a drink.
32. Than Bok Khorani National Park
In Ao Luk, turn left at the traffic light in the direction of Laem Sak on the main road to Phang Nga-Krabi.
The headquarters of Bok Khorani National Park is located about two kilometers after the traffic light on the left.
The headquarters of the National Park provides a walk with waterfalls, caves, and even a small Buddhist temple through the rainforest and limestone hills.
Popular with locals as it offers a cool, sunny forest and some small swimming pools, it is an ideal place for picnics and swimming, and it gets busy on weekends. Bring your snacks at the park entrance or sample barbecue chicken, fruit, and snacks from local vendors.
What is the best time to visit Krabi?
Around November and March, which is also the peak tourist season, the perfect time to visit Krabi? June to October Krabi experiences heavy rainfall, which means that too many tourists are not frequented. Here's a seasonal break-up every month so you can plan your trip better:
November to mid-March:
this is Krabi's best season after the rains have ended. It's also the busiest time with the best weather, of course, with most tourists planning their trips around this period.
This is the ideal time to relax on one of Krabi's beautiful beaches and enjoy water sports in the peaceful sea.
Mid-March to May:
The hottest months in Krabi are considered just before monsoon hits Thailand. In the mid-thirties, temperatures differ, with humidity levels steadily rising.
One excuse you should plan a trip in April is to see the Thai New Year Songkran Festival when people splash water on each other!
June to October:
The Krabi Monsoon season runs from May to October.
The prices are at an all-time low while the weather is hot, making this one of the cheapest seasons to plan a trip.
Besides being cost-effective, visiting it is also a peaceful time, as it is not as busy as the high season. July, September, and October are the wettest months.
Which is better, Phuket, or Krabi?
If you want a sophisticated vacation in a convenient and well-developed destination, it would be more accurate to say that Phuket is better. If you want a lot of easy-to-reach choices, Phuket is for you. Wen contrast the two, if you want to relax or play in a beautiful natural setting, Krabi is better.
here you can see you!
What is Krabi known for?
Krabi is recognized as a place of outstanding natural beauty.
The Thung Teao Forest Natural Park is one spot that should make your list of must-sees. It's a bio-diversity-rich lowland forest, complete with a nature trail.
Krabi is also renowned for its impressive cliffs and beautiful calcareous rocks that rise from the azure waters.
The dramatic natural features also provide plenty of ways for daredevils to have fun as well as being aesthetically pleasing.
Which area is best to stay in Krabi? Ao Nang or Railay beach
Railay West beach is the best place to stay for the feeling of being "beach," but it has been duly noted that it has become very pricey.
Railay East Beach is not at all a beach-it's more like a sandy tidal island, and neighboring Ao Pha Nang Beach (maybe the most beautiful) has only one mega-cost resort.
Krabi Thailand hotels
Krabi hotels offer you a relaxing vacation in one of Southern Thailand's most beautiful areas. The great thing about Krabi Province's hotels and resorts is that guests are never far from the beach.
There are many hotels on the beach right now.
Mother Nature is the region's star, with its magnificent outcrops of calcareous, turquoise sea and beaches of white sand. Krabi is becoming better known as a destination of choice.
See the most popular hotels and resorts in Krabi below. Each of them is an independent winner. Whatever your budget and taste, the idyllic spot for your next vacation in Krabi is sure to be found.
Phulay Bay, Ritz-Carlton Reserve
Phulay Bay A Ritz-Carlton Reserve is a high-end resort situated on the secluded beach of Tub Kaek, about 45 minutes from Krabi International Airport and only 20 minutes from Ao Nang, the most popular holiday destination in Krabi Province.
Stylish and stylish, the resort is set right on the beach in a remote and quiet area, surrounded by a lush tropical forest.
Standing in the middle of the infinity pool creates an instant wow factor as it is unforgettable to see the Andaman Sea dotted by some of the 154 islands of Krabi Provinces.
Ocean Pavilion, Reserve Pavilion, Beach Villa, Reserve Pool Villa Sea View, Royal Beach Villa, and Royal Andaman Sea Villa are six styles of villas available in contemporary Thai architecture.
Centara Grand Beach
Centara Grand Beach Resort & Villas Krabi is a stand-alone resort located on Pai Plong Bay, a 350-meter beach located a few minutes by long-tail or speedboat south of Ao Nang.
The adjectives that best fit this resort are secluded and impressive: it is the only accommodation in Pai Plong Bay, and the hotel's backdrop consists of an 80 m calcareous cliff covered with tropical plants that give tourists the feeling of being in a sequel to Jurassic Park.
The resort features 192 rooms and villas built in a modern Thai theme with eight different types.
Standards are quite high here the smallest room type-Deluxe Garden View-covers 72sqm and the largest room type-Villa Royal-covers 399sqm and all rooms have high-end facilities flat-screen TV, bathroom and wireless broadband internet.
Sofitel Krabi Phokeethra
Sofitel Krabi Phokeethra Golf & Spa Resort is a landmark. In front of the sea at Klong Muang Beach, a quiet area on the Krabi Coast, its size and elegant colonial architecture make it an exceptional place.
With 276 rooms and 23 Junior, Prestige, and Opera suites, all accommodations deliver a French-style five-star Asian look.
It has a long list of great facilities, including Wi-Fi, air conditioning, satellite TV, free, just to name a few.
Yet Sofitel Krabi Phokeethra excels on the leisure and sports side. The resort is renowned for hosting Thailand's largest swimming pool: a 7,000sqm area free form basin.
Beyond Krabi Resort
Krabi enjoys a prime location in a quiet area along the coast of Krabi, Klong Muang Beach.
Its excellent location allows visitors to enjoy a wide range of activities on nearby islands such as water sports such as sea kayaking, swimming, and snorkeling.
There are also trekking and exploring beautiful sites in the province's many national parks.
You can enjoy the amenities at your fingertips in the resort itself: a large freeform swimming pool with Jacuzzi, a center for beach sports, a fitness center with state-of-the-art modern facilities. Besides, there is an indoor activity area with tennis and pool tables.
The Tubkaak Krabi
The Tubkaak Krabi Boutique Resort is an award-winning hotel nestled along the spectacular Krabi coast at Tub Kaak Beach in a secluded and remote area.
Set right on the beach, facing several of the province's 154 islands and islets. The resort has five styles of room/villa set in a beautifully landscaped garden.
The Tubkaak Boutique Resort Krabi
There are superior suites, Deluxe Cabin, Seaview Room, Laurel Suite, and Tubkaak Suite. All rooms are elegantly appointed and decorated with a wide range of amenities: air conditioning, microwave, satellite TV, ceiling fan, free Wi-Fi, tea and coffee making facilities and balcony/terrace.
Amari Vogue Krabi
Amari Vogue Krabi is a sumptuous five-star resort combining northern Thai-style Lanna architecture with a laid-back atmosphere in southern Thailand.
The resort has 57 rooms/suites/villas set in a beautifully landscaped tropical garden of 15,000sqm surrounded by hilly rainforests.
The Amari Vogue offers five types of rooms: Deluxe Room, Grand Deluxe Jacuzzi Room, Grand Deluxe Room, Spa Suite, and Villa One-Bedroom. Both styles of rooms are air-conditioned and furnished in a modern but rustic theme of Lanna.
There are top-of-the-line amenities such as satellite TV, DVD player, fridge with fully stocked mini-bar.
Sand Sea Resort
Sand Sea Resort is situated in one of Krabi Province's most popular and remote locations, Railay Beach, which is only accessible by boat from Ao Nang since high calcareous cliffs surround Railay. Railay has four beaches: Railay South, Railay North, Phra Nang Beach, and Long Beach.
Get ready for a true holiday experience out of this world as Railay is truly another world. Luckily, with its spacious and well-equipped bungalows and cottages, Sand Sea Resort still has a foot in the 21st century. There are four types of accommodation: Superior Air Conditioned Bungalows, Deluxe Air Conditioned Bungalows, and Nice Cottages.
Pakasai Resort
Pakasai Resort is a tropical destination that is one of its kind. Located in Ao Nang, just a 10-minute walk from the beach, the hotel setting couldn't be more luxurious: all bungalows/chalets are built on the flank of a rainforest-covered hill.
So don't be surprised to see squirrels, monkeys and tropical birds in the branches above your head while you're drinking a morning coffee on your balcony.
Some more common rooms are also accessible in a building near the reception, restaurant, and swimming pool. The Pakasai Resort provides five room types: Superior Rooms (house), Deluxe Rooms Adora Rooms, Adora Rooms, and Adora Suites.