How to get to Krabi from Bangkok
Krabi is situated on Thailand's south-west coast, about 800 km from Bangkok, and about 170 km from Phuket. It can be easily reached by road, air, and sea.
Yeah, it's not a short trip, but seeing the white sand, enjoying the excellent opportunities for scuba diving, and reaching the top of Tiger Cave Temple will undoubtedly be worth it.
In this blog post
we shall provide you with a guide on how to get to Krabi from Bangkok. We have done adequate reach for you and provided you where to get the tickets from as well as answer essential FAQS about how to get to Krabi from Bangkok.
Krabi, is found on the west coast of southern Thailand, is a province characterized by rocky cliffs, calcareous cliffs, dense mangrove forests, and over a hundred offshore islands.
Among the most famous tourist destinations is the Phi Phi Islands, which jut from the sea like giant rain forest blocks, and Railay Beach, which is only accessible by boat and a famous rock climbing spot.
Krabi is one of the famous tourist destinations in Thailand
blessed with white sandy beaches, beautiful islands, and stunning sea cliffs. Krabi has an array of great things to see and do, from blissful relaxation to cultural explorations and fun outdoor adventures.
Krabi Province has some of the most beautiful islands in Thailand, including big names such as Koh Phi Phi and Koh Lanta, where you might want to spend a few days or more.
You will also find lesser-known pristine gems among the 200-odd islands and islets that are perfect for day trips or fast stop-offs. Koh Rok's two islands are joined by a channel of coral and offer fantastic snorkeling, stunning sands, and incredible views.
Often known as Skull Island, Koh Talabeng has spectacular cliffs and somewhat rare scenery with a yawning cavern. Koh Gai is a classic coastal paradise, with powdery sands, clear blue waters, and a large number of shops selling tantalizing snacks and drinks.
Explore tiny fishing communities, mangroves, and laid-back beaches in Koh Jum back in time. Koh Haa, Koh Poda, Koh Nok, and Koh Hong are some of the other top island adventure options. The islands are connected by long-tail boats, speedboats, and ferries, and many are available for day trips. Excursions include breaks for snorkeling and a break for lunch.
Bangkok to Krabi by Flight
As a result of the distance between both the two cities, flights from Bangkok to Krabi appear to be the most logical option, and you don't have any trouble finding them. Several domestic airlines have regular schedules operating between the two locations every day.
The route is covered by airlines such as Air Asia, Bangkok Airways, Thai Airways, Thai Lion Air, and Nok Air.
Our pick would be always Nok Air from Don Muang Airport or Bangkok airways from Suvarnabhumi Airport
A one-way ticket's average cost is 2,500 baht, but for as little as 1,700 baht, there are often cheap flights to have.
The average flight time between Bangkok and Krabi is 1 hour and 30 minutes.
You must check-in at least 1 hour before departure for your flight, and most check-in desks close 40 minutes before departure.
It is important to note that reaching Bangkok's Suvarnabhumi Airport from riverside Bangkok hotels can take up to two hours at peak travel times, so you need plenty of time to catch your flight.
Air Asia uses the old Don Muang International Airport as the most daily flights. Nok Air and Thai Lion Air also use Don Muang International Airport.
Taxi is the easiest way to reach Don Muang Airport. It costs between 250-300 THB. It's about 23 km from the center of town, which takes 30-60 minutes.

There is also a convenient A1 bus to Don Muang Airport and Don Muang to BTS Mo Chit from the Skytrain station (BTS).
NOTE! This operates air-conditioned buses from 8.30 a.m. to 23.30. Pay 30 THB in cash on the bus. The trip usually takes about 30-45 minutes. The A2 bus takes you a little further to Victory Monument, and there are a few other stops on the way to the BTS-station.
Bangkok to Krabi flights from Suvarnabhumi Airport with Thai Airways, Vietjet Air and Bangkok Airways
There are plenty of useful facilities on site, including an airport hotel where for added convenience. You have a choice to stay the night before your flight.
Suvarnabhumi Airport also has its own transport system, including a free-to-use shuttle bus, linking the passenger terminal to the rental car depot and bus terminal.
Several public bus routes provide 24-hour service to different parts of the city. The travel fare is 35 baht. Buses travel to and from the airport stop at the transportation center from where you can take a shuttle bus.

You can also go to the airport by taxi if you choose not to travel by bus. The fare would consist of a metered fee plus expressway fees and a 50 baht airport surcharge. The taxi passenger drop-off point is at level 4, and the pick-up point is at level 1.

The Airport Rail Link running between Suvarnabhumi Airport and Phaya Thai Station and Makkasan Station is also located on the bottom floor, plus five other less common stations.
Phayathai Station links to the side of the BTS Skytrain. Makkasan Station is connected to the subway line of the MRT.
A train takes 26 minutes to Phaya Thai Station and costs 45 Thai Baths. A train takes 22 minutes to Makkasan Station and costs 35 Thai Baths. During morning and evening commuting hours, passengers' trains can be very crowded.
In the afternoon, Makkasan Station and Phaya Thai Station usually are very busy to get on to Suvarnabhumi Airport.
Bangkok to Krabi by Train
There is no such thing as a train from Bangkok to Krabi, as there is no railway station in Krabi.
If you're going by train, you'll have to board at Bangkok's Hua Lamphong station and alight at Surat Thani.
From here, you can take a shuttle to Surat Thani's bus station and then the rest of the way to Krabi by bus.
Hua Lamphong Railway Station is located in downtown Bangkok!
So:
it's easy to get there.
It is connected to the MRT subway system. Si Lom (MRT) / Sala Daeng (Skytrain) is the closest BTS Skytrain transfer point.
Or
If you live on Sukhumvit, you are linked to MRT by the BTS Skytrain Station Asok.
The train station at Hua Lamphong is also served by regular bus services from all areas of Bangkok.
The red buses most often run through the night. Such coaches are often noisy and have no air conditioning, but onboard, they have a fan.
The red buses are operated by the Bangkok Mass Transit Authority (BMTA), which also operates the air-conditioned and more spacious Orange (Euro II) bus. Privately run buses are also available; you usually pay more to ride on a private bus.
Another way to get to or from the station at Hua Lamphong is by taxi.
Be cautioned that there is no coordinated taxi queue when you return from Krabi to Bangkok to avoid being involved in a wrestling match at busy times. You should also ensure that the taxi driver turns on the meter in the taxi and report it if he fails to do so to the station authorities.
NOTE! Hua Lamphong station itself is bustling, offering regular service for about 60,000 passengers. You have to make sure you have plenty of time to book tickets and catch the train.
At the station, which is valid to Krabi, you can book a combined train and bus ticket.
Whether you book your ticket on the day of travel, or the day before, under the red/orange/green screens, you can make your purchase at the ticket counters.
If you need to book ahead, you should go to the platform area and look for the right side of the booking office.
As we mentioned earlier, you're not booking a ticket for the Bangkok to Krabi line, but the train to Surat Thani and a bus ticket for the rest of the journey.
Trains leave during the day and at night to Surat Thani. It takes around 8 hours, 45 minutes, for the daytime express trains to reach their destination. This air-conditioned service allows you to book second-class seats, and meals are included.
The sleeper train takes about 11 hours and 45 minutes to reach Surat Thani, but you can book a 1st class sleeper ticket for about 1,500 baht, or a 2nd class sleeper ticket for about 960 baht.
You board an air-conditioned bus for the three-hour trip to Krabi once you reach Surat Thani bus station.
Bangkok to Krabi by Bus
The entire route from Bangkok to Krabi can be traveled by bus.
In the evening, air-conditioned buses leave the Southern Bus Terminal and take about 12 hours to get to Krabi.
It can be challenging to reach the Southern Bus Terminal, also known as Sai Tai Mai, from the middle of Bangkok.
From the old town, the only easy way to get there is by taxi that costs around 120 baht.
Most buses travel overnight and cost 620-970 baht, depending on inside comfort levels. It's about 10 hours to drive. Tickets never need to be booked in advance, except for public holidays around Thai.
Combined ferry Plus bus tickets are on sale on the east coast (Koh Samui, Koh Tao, Koh Phangan) as well as on the further south (Koh Lipe and Langkawi) islands. The same tourist bus companies run these buses, and they offer a relatively seamless transfer. However, waiting around is expected to be fair.
VIP bus service from Bangkok to Krabi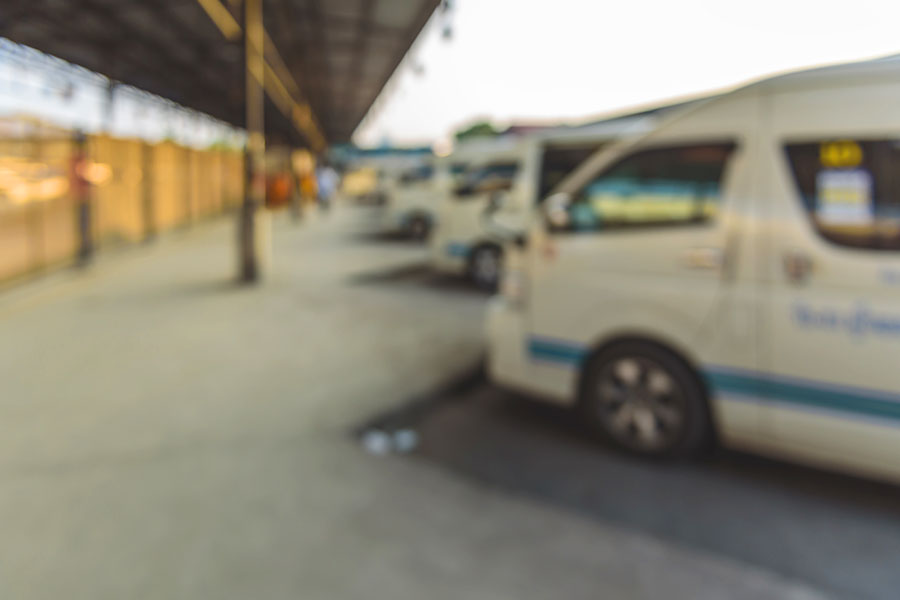 Private VIP busses depart three times a day from Bangkok Southern Bus Terminal, both during the daytime and at night. Since the journey takes 11 hours, however, a nighttime sleeper bus is not only a better use of your time but much more comfortable as well.
All buses are designed with air-conditioning, and you'll be provided with snacks, cold drinks, as well as one meal, as well as blankets to cozy up at night.
There will be one or two stops through the way (depending on the time you choose to leave the bus), so you can stretch your legs and grab some food or coffee.
To bus first arrival at the Krabi Bus Terminal, which is just four kilometers away from the city, from where you can catch a motorcycle taxi. You can also take a taxi from the bus station to the pier if you're hoping to get on a ferry to get to one of the islands.
Bangkok to Krabi by bus distance
The distance between Bangkok and Krabi is 800 km by bus. WHEN YOU trip by bus gives you a chance to save up, but it is easy to catch a cold sitting under an air conditioner. By bus, you can get there in 10-12 hours.
Bangkok to Krabi bus travel time
Traveling from Bangkok to Krabi is by bus the cheapest way. From Bangkok to Krabi, there are several different bus services that all arrive at Krabi Bus Terminal near Krabi City. It's cheap and fast to travel to the famous beach resort towns from the bus terminal.
Both services start from the bus station Sai Tai Mai, also known as the Southern Bus Terminal in Bangkok. VIP 24 buses have fewer bus seats than Express bus services to make the ride more convenient, which is why these bus services are more costly.
| | | | | |
| --- | --- | --- | --- | --- |
| Bangkok | Krabi | Service | Cost | Company |
| 17:30 | 06:30 | Express | 739 THB | Transport Co STM |
| 17:30 | 05:55 | Express | 682 THB | Lignite |
| 18:30 | 07:30 | VIP 24 | 1,090 THB | Transport Co STM |
| 19:00 | 07:25 | VIP 24 | 1,023 THB | Lignite |
| 19:30 | 08:30 | Express | 790 THB | Transport Co STM |
| 20:00 | 08:25 | Express | 682 THB | Lignite |
| 20:40 | 09:05 | Express | 682 THB | Lignite |
How do I get from Bangkok to Krabi?
In Krabi, there is no railway station; the only way to get to Krabi is by bus or by train+ bus combination. Hence, board train from Bangkok to Surat Thani (about 9-12 hours, 650 km), or a bus or private taxi to Krabi from Surat Thani (about 4 hours, about 155 km). You can also well as book a direct bus from Bangkok to Krabi or book a flight from Bangkok to Krabi, which is the highly recommended means of transport.
How far is it from Bangkok to Krabi?
The distance between Bangkok and Krabi is around 800 km by road and 650 km – by air.
How far is Krabi from Bangkok by plane?
The distance from Bangkok to Krabi is approximately 650 km by plane. Only 1 hour and 20 minutes will take you on the flight. Depending on the airline, an air ticket price ranges from $20 to $110. Thailand's air service is well established. That's why it's recommended to get to Krabi by plane.
How much is the bus from Bangkok to Krabi?
There are local buses from places like Sukhumvit that only cost a few baht. You should expect the journey to cost about 920 baht if you're traveling by bus from Bangkok to Krabi. A bus ticket, however, costs between $18 and $30.
See also!